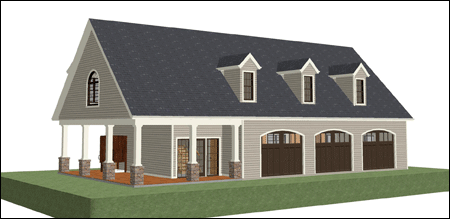 Our Residential Architectural Process

Programming
Mike Henry Architect meets with the homeowner to discuss the goals, needs, and function of their proposed project, including design expectations, budget, code and zoning regulations. Our firm helps the homeowners arrive at a realistic budget estimate for design and building. We do this by leading them through discussing  several design approaches in light of the local costs for materials and construction.
In this phase, the homeowner is encouraged to have a candid discussion with us as to their actual budget for their entire project. Following our initial discussions, we produce an outline for the scope of the proposed project.
Schematic Design
Mike will provide you with concept sketches of design options and explain how they meet the requirements discussed in the programming stage. The overall scope of your project, the proposed building materials, and a preliminary budget related to the schematic design are also discussed. Refinements are made until you, the homeowner, approve the design.
Design Development
Mike and the design team will prepare detailed design drawings using 3D modeling software to finalize your design plans, showing actual sizes and shapes for rooms. Construction specifications will be outlined, listing the major materials to be used.
When the homeowners approves the design drawings, Mike will then help to find contractors who can confirm the preliminary cost estimates.
Construction Documents
One of the most important elements of an architect's services is construction documents. Mike and the team will develop detailed drawings with material specifications. The contractor will use these drawings to estimate construction costs and to build your project.
Selecting the Contractor
You have several options when it comes to hiring a contractor, including asking your architect to recommend one or more contractors for you to interview for your project. Your architect can also help you select a contractor by reviewing bids or estimates based on the construction documents.
Construction Phase
In this phase, as your architect, we will observe the pace and quality of construction. As your agent, we look out for your interests, keeping you informed of the project's progress and reviewing changes or problems that may arise. Construction phase services are helpful in keeping your project on track and within budget.
MHA uses Chief Architect 3D ("See Before It's Built") software.  Most projects include 3D internal and  external  views.
Mike tries to optimize placement of the house on the property for shading and sunlight considerations to reduce energy consumption. Other key factors include insulation, efficient windows and doors and your HVAC equipment.
Some  Virginia Peninsula neighborhoods where MHA designs are located include Fisher's Landing and Captain Johns Landing in Newport News, The Point at Salt Ponds and Riley's Way in Hampton, and Governor's Landing and Queen's Lake in Williamsburg.
MHA has worked with such prominent residential and commercial builders such as Roger McLellon, Wayne Harbin, Steve Spain, David Zanks and Mike Lincoln.
A typical custom residential project includes 2 to 3 months of design development, 6 to 8 weeks of detailed drawing preparation, 4 to 6 weeks of estimating or bidding and 9 to 15 months of construction.
MHA concentrates on serving custom single-family homeowners, speculative home developers to include residential additions and remodeling.  MHA can design additional structures such as detached garages, workshops, in-law or guest suites, pool houses or cabanas.
Residential Architectural Gallery
Smithfield Virginia Residence